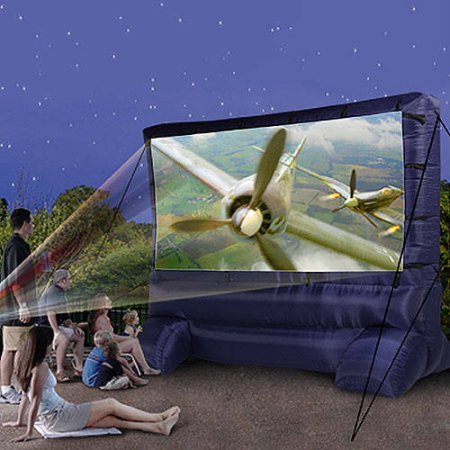 Outdoor Home Theater
Add soemthing extraordinary to your party with our outdoor theater system. Everyhting you need is included! We set up all equipment to ensure a stress free experience for your party! Our system is perfect for Birthday parties, Church lock-ins and events, Outdoor BBQ, Graduation parties, Pool parties, Video Gaming, Community Backyard Drive-In, or just a family night out on your lawn!
Make your yard the place for movie night with the Deluxe Inflatable Outdoor Movie Screen, 12' Widescreen. It is designed with inflatable feet to give it more stability and a 144" diagonal screen that makes it feel like you are watching a movie on the big screen. The new 16:9 screen size is just right for watching movies outdoors, while the raised screen makes for easy viewing. Invite friends and neighbors for a movie night or use it for a birthday party for the kids. The System is recommended for intimate settings with up to 50 people. Everything you need is included:
Our Braven BRV-XXL speaker is the biggest, baddest, loudest Bluetooth speaker made for the outdoors. The XXL is packed with quadruple audio drivers that push big sound out of both sides of its cabinet. A whopping 15,600mAh built-in battery is powerful enough to charge smartphones and offers up to 14 hours of uninterrupted playtime plus built in microphone jack.
If you are hositng your own backyard event you do not need to acquire a public viewing license to show your film. If you are a large client that intends to show the movie at a public event, you must acquire a license to do so. We can not purchase the license for you, however we can help you with contacts to obtain the licensing for your organization.
Package includes everything you need:
Inflatable Screen
Projector
SONY Wifi Bluray Player with Bluetooth Audio
Braven XXL Speaker
Power cords
Air Blower